WE ARE COMMITTED TO OUR COMMUNITY HERE IN ULSTER COUNTY!
Every year Ulster Federal Credit Union selects a local non-profit 501(c)(3) in Ulster County to be the recipient for all of our fundraising efforts held during the year. We appreciate the community support that we receive here in the Hudson Valley, and enjoy giving back!
MEET OUR FUNDRAISING BENEFACTOR FOR 2023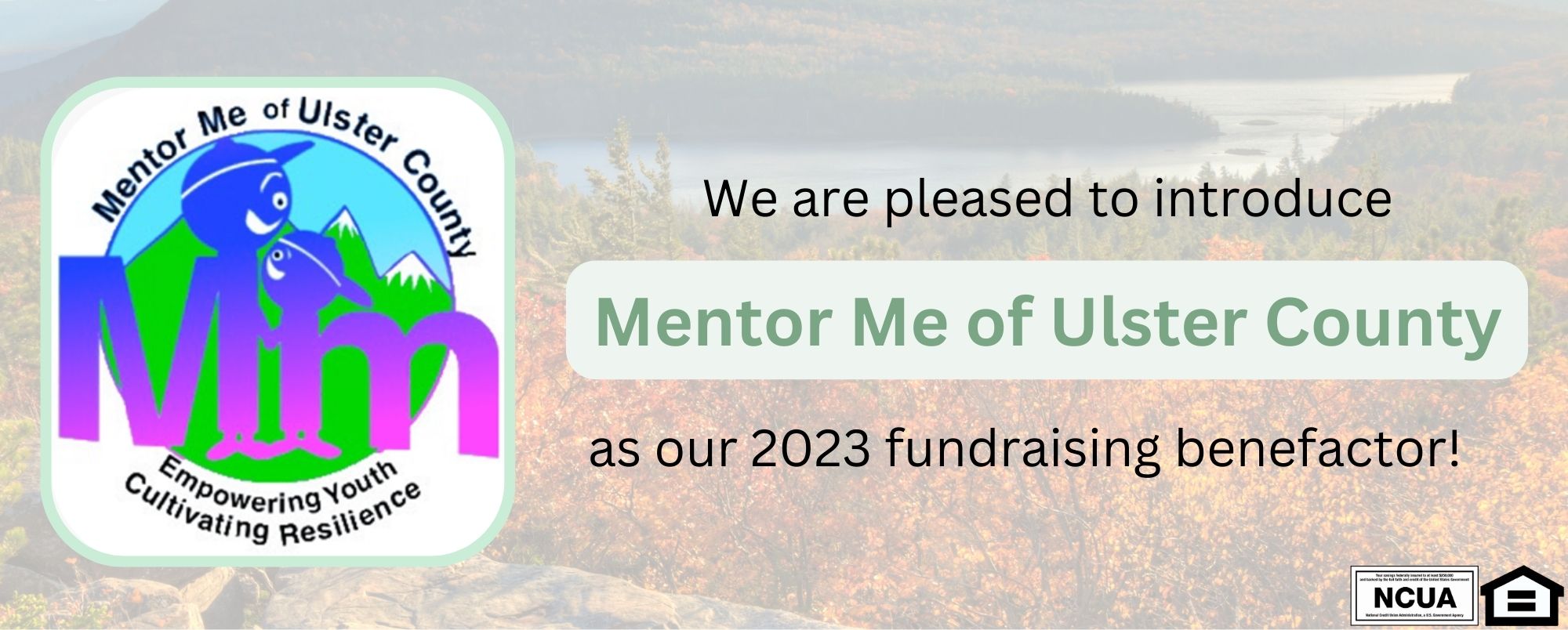 Mentor Me of Ulster County provides at-risk youth in our community the opportunity to experience activities and build social skills that they may not otherwise have the chance to experience or receive. A majority of the youth in the program are homeless and/or from single parent homes. The goal is for the youth to be paired with a mentor who can help them with general wellness, in addition to being a supportive figure in their life. The youth in the Mentor Me program get involved in and give back through community service projects.
For more information about Mentor Me and what they have to offer, look them up on social media or visit their website at https://www.mentormeulster.org/.
We are excited about this opportunity that lies ahead and look forward to some fun fundraisers ahead in 2023. Stay tuned!
HOW YOU CAN HELP
Mentor Me of Ulster County is run by Community Funding. Being such a new non-profit, they do not get financial assistance from the state or government.
There are a few ways in which you can help make a difference in these kid's lives.
Donations can be made at any one of our branches, or on Mentor Me of Ulster County's website at https://donorbox.org/mentor-me-of-ulster-county.
Sponsor a child for $19.00/month.
You can become a mentor. It only takes 4 hours a month to be a mentor, and makes a huge impact in a child's life.
Watch for exciting fundraising events throughout the year!
UPCOMING EVENTS
BREAKFAST WITH SANTA!
Date: Sunday, December 3rd, 2023
Location: Veterans of Foreign Wars
708 E Chester St. Kingston, NY 12401
Time: 10:00 AM
PRICING:
$15.00 General Admission (13+)
$7.00 Children 6-12
FREE Children 5 and under
Please note, small processing fee if not paid in cash or check
RSVP, TODAY! LIMITED SEATING AVAILABLE!